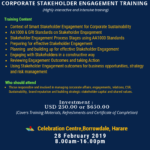 The Institute for Sustainability Africa (INŚAF) will be hosting a highly interactive and intensive Training on Corporate Stakeholder Engagement using AA1000 and GRI Standards on the 28th of February 2019 at Celebration Centre, Borrowdale Harare.
The training will cover the context of Smart Stakeholder engagement for Corporate Sustainability and how its outcomes can be used for business opportunities, strategy and risk management.
Register Here!
One more step …
Please complete the registration form below to reserve your place.