May 3, 2019
Posted by:

Rutendo Mafemba

Categories: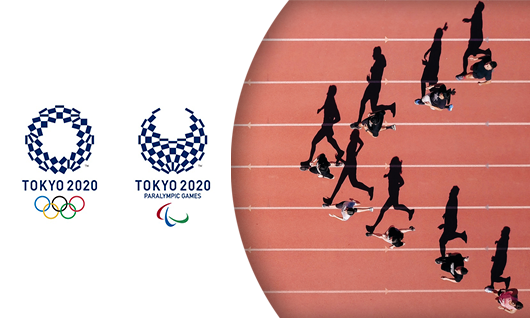 The Tokyo Organising Committee of the Olympic and Paralympic Games (Tokyo 2020) today published its Sustainability Progress Report, summarising progress, made mainly during 2018, in the implementation of the Tokyo 2020 Sustainability Plan. The report covers areas including procurement and venue and infrastructure construction or renovation and was prepared in accordance with the GRI Standards Core Option, a set of international standards governing sustainability reporting.
Tokyo 2020 published its Sustainability Plan Version 2 in June 2018, under the guiding principle "Be better, together – For the planet and the people". Today's report details progress achieved thanks to initiatives that were launched in alignment with the United Nations' Sustainable Development Goals in the following areas:
Climate Change

Resource Management

Natural Environment and Biodiversity

Human Rights, Labour and Fair Business Practices

Involvement, Cooperation and Communications (Engagement)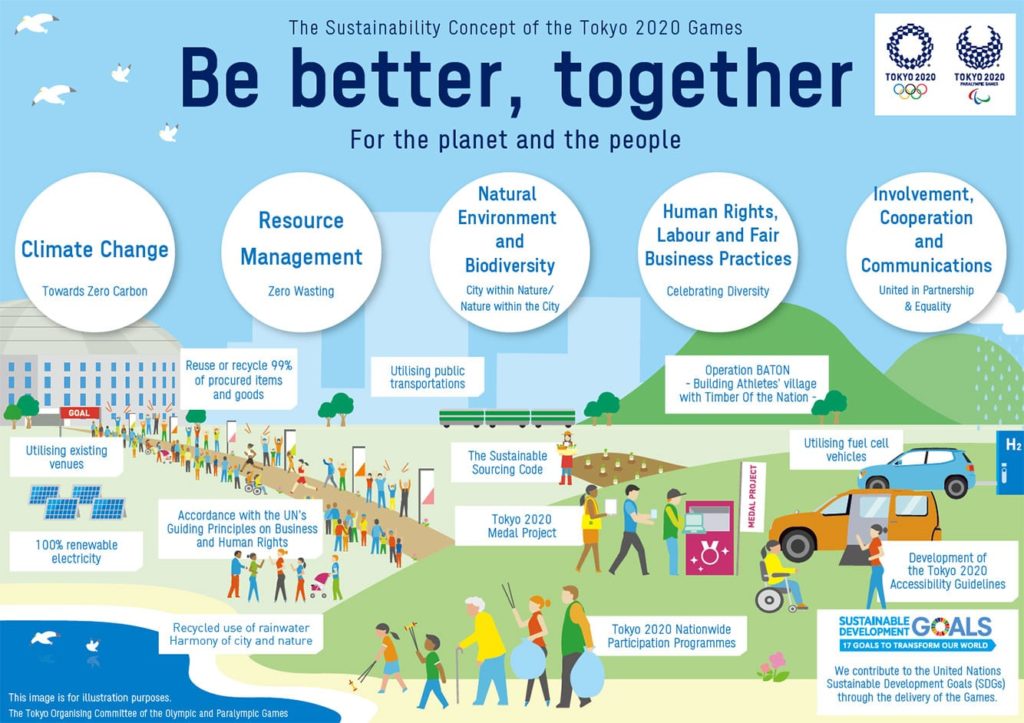 Key activities and achievements to date include:
The collection of used electronic devices in order to extract the precious metals they contain and the recycling of these devices to manufacture gold, silver and bronze Olympic and Paralympic medals has progressed on target, generating significant public engagement in Japan and internationally. More than 18,000 collection boxes have been installed at the offices of participating businesses and Games partners, government departments, and chambers of commerce across the country. They have also been provided at post offices and at special events hosted by Tokyo 2020. In addition, 1,618 local authorities–approximately 90 per cent of Japan's total–and 37 host town local governments have participated. Tokyo 2020 partner companies are also cooperating in a variety of ways, such as by donating their employees' used mobile phones. Approximately 47,488 tons of discarded devices and over 5 million used mobile phones had been collected as of October 2018. The targeted amount of bronze – some 2,700kg – was already extracted from these by June of last year. By October 2018, 28.4kg of gold (93.7% of the targeted 30.3kg) and 3,500kg of silver (85.4% of the targeted 4,100kg) had been sourced from the donated devices.
Sixty-three municipalities across Japan have joined Operation BATON – Building Athletes' village with Timber Of the Nation. The project aims to construct the Village Plaza using sustainably sourced Japanese timber donated by local authorities across Japan, before dismantling it after the Games in order to return the timber for reuse in the communities – for example, as a public bench or part of a school building.
Tokyo 2020 cooperated with the International Labour Organization (ILO) and the United Nations to support collective efforts and initiatives aimed at advancing the U.N. Sustainable Development Goals. As an example, the Sustainability Forum, hosted jointly by Tokyo 2020 and the ILO in October 2018, gave the opportunity to discuss supply chain management and human rights due-dilligence with corporate sponsors, while encouraging corporates' commitment to promote responsible labour practices.
Tokyo 2020 was one of the first signatories of the UN Sport for Climate Action framework launched in December 2018, in which the IOC is talking a leadership role. Efforts have been made towards offsetting CO2 emissions in collaboration with the Tokyo Metropolitan Government and Saitama Prefectural Government. Tokyo 2020 also encourages citizens participation in activities to reduce and absorb CO2.
In addition to the Sustainable Sourcing Code, which governs the overall procurement for the Tokyo 2020 Games, supplementary criteria for the sourcing of paper and palm oil were established in 2018 to help ensure sustainable sourcing for these items. A grievance mechanism was also put in place to handle reports of non-compliance and to enhance the overall effectiveness of the Code.
Energy-saving initiatives and renewable energy technology have been installed at the new permanent venues being built; Tokyo 2020 has also worked to ensure accessibility at these venues is in accordance with its Accessibility Guidelines.
To ensure respect for the human rights of all people involved in the preparation and delivery of the Games, Tokyo 2020 has supported awareness raising and training activities on diversity and inclusion among its own staff, and implemented its own Diversity & Inclusion Strategy and provided a range of awareness training opportunities. We have additionally promoted the employment of people from diverse backgrounds and taken steps to improve the working environment of Tokyo 2020 staff and contractors.
Tokyo 2020 has also promoted the reuse and recycling of procured items, established rules governing asset management and disposal, and ensured more efficient procurement of resources by such means as leasing.
Read more here….