Chief Executive
Mr. Rodney Ndamba (FCCA, MA)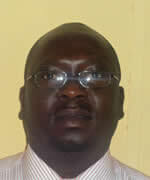 Sustainability and Sustainable Development

Accountancy

Business Research
Sustainability Leadership
Responsible Investing
Business Strategies
MA in Accounting & Finance (University of Huddersfield, UK),  

B.Sc. (Hons) in Applied Accounting (Oxford Brookes University, UK)

A number of specialist certificates which includes sustainability reporting, sustainability assurance and Climate Change.

Doctoral Candidate for a Doctor of Business Administration (DBA) with Herriot Watt University (Scotland).
He is also a University Lecturer and has great passion in Sustainability and Sustainable Development. He served 6 years as Stakeholders Council Member (The Netherlands) and has great international exposure is difference fields. He has membership of GRI Africa – Advisory Group (South Africa), ACCA Global Forum on Sustainability (England), Institute of Director Zimbabwe and Zimbabwe Stock Exchange (ZSE) – Listings Committee. He also a registered Public Accountant in Zimbabwe.